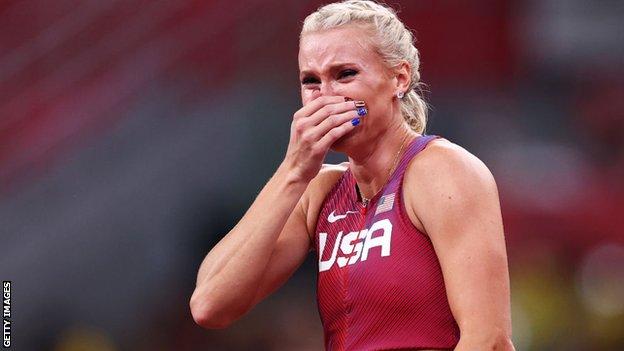 Team USA were reeling from an "embarrassing" relay display and a shock defeat for hurdler Grant Holloway on a rollercoaster day in Tokyo – where they also celebrated shot put gold and a guaranteed basketball medal.
Their 4x100m men's team failed to reach the final, with American sprint great Carl Lewis saying they had done "everything wrong".
That defeat was followed by world champion and overwhelming favourite Holloway being beaten by Jamaican Hansle Parchment in the men's 110m hurdles final.
But American spirits were lifted by Ryan Crouser beating his own Olympic record to defend his shot put title, a pole vault title for Katie Nageotte, and news that BMX rider Connor Fields was set to be released from Thursday less than a week after a crash that left him with a brain bleed.
The United States are second behind China in the medal table and will add to their tally after the men's basketball team reached Friday's final, while Nelly Korda is in a strong position in the women's golf, where she has a four-stroke lead after two rounds.
Away from the traditional powerhouses, Burkina Faso were celebrating a first-ever Olympic medal when Fabrice Zango took bronze in the triple jump and India ended a 41-year wait for a hockey medal.
And the first-ever gold medal was awarded in karate, where Spain's Sandra Sanchez Jaime triumphed in the women's kata.
Are the United States underperforming on the track?
The verdict by Carl Lewis was damning as the American men's 4x100m team – made up of Trayvon Bromell, Fred Kerley, Ronnie Baker and Cravon Gillespie – finished sixth in their heat and failed to reach the final.
"The passing system is wrong, athletes running the wrong legs, and it was clear that there was no leadership," he said.
"It was a total embarrassment."
It is was not just in the relay where they have so far underperformed – the USA have won a gold medal in a men's individual running event at every Olympics dating back to the inaugural Games in 1896, excluding 1980 which they boycotted.
But they have drawn a blank at these Games so far.
In the 110m hurdles, Holloway was the hot favourite as he was unbeaten since August last year and had missed the world record by one-hundredth of a second at the US Olympic trials.
Holloway said nerves had got the better of him as he lost momentum over the final two hurdles and allowed Parchment to surge past him.
They also failed to win a medal in the men's 400m final, an event where they were once so dominant that they won seven titles in a row from 1984 to 2008.
But there was American joy in the pole vault, where Katie Nageotte won gold, and the shot put, where Ryan Crouser beat his own Olympic record to defend his title.
Crouser managed 23.30m on his final attempt, having led from the opening throw, in sweltering conditions at the Olympic Stadium.
Compatriot and world champion Joe Kovacs took silver with New Zealand's Tomas Walsh claiming the bronze.
It was the first time an in individual sport that the Olympic podium has not changed since the previous Games.
Another athlete on top of the podium like she was in 2016, was Belgium's Nafi Thiam, who retailed her heptathlon title.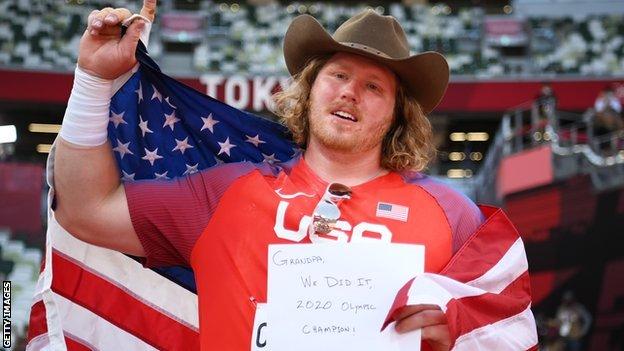 Team USA recover to reach basketball final
Team USA are one win away from a fourth successive gold in the men's basketball after they beat Australia 97-78 in the semi-finals.
The Americans got off to a poor start though, letting Australia build a 15-point lead in the second quarter, before recovering.
The most successful team, with 15 basketball golds since 1936, have not been as dominant as in the past at these Games, suffering a first Olympic defeat since 2004 in their opening game against France.
They will face France or Slovenia in Friday's gold-medal match.
First medal for Burkina Faso and India end wait
India ended a 41-year wait for an Olympic hockey medal with a 5-4 win over Germany that earned them the bronze.
They are the most successful hockey nation in Olympic history with eight men's titles, but India's last medal until now was at the 1980 Moscow Games, when they won gold.
Meanwhile, Burkina Faso became the 100th nation to win an Olympic athletics medal as they picked up their first-ever medal at a Games with Zango's triple jump bronze behind Portuguese winner Pedro Pichardo.
"Burkina Faso is really happy. Everybody is happy. I think they will throw a great party when I go back," Zango said.
There may also be a party back in New Zealand for Lisa Carrington, who became their most successful Olympian by winning gold in the women's kayak single 500 metres, taking her overall Games medals tally to six.
Skateboarding win for Australia as Spain win Olympics' first karate gold
There were more medals in the sports that are making the debut at these Olympics.
Australian 18-year-old Keegan Palmer packed in the tricks to win gold in the men's park skateboarding event, with Brazil's Pedro Barros taking the silver and American Cory Juneau hanging on for bronze.
And among all the teenagers, who have lit up the new event, there were two 46-year-olds competing – Rune Glifberg and Dallas Oberholzer.
Meanwhile, in karate – which was introduced for these Games but unlike skateboarding will not be returning at Paris 2024 – the maiden gold medal went to veteran Sandra Sanchez of Spain, with local favourite Kiyou Shimizu taking the silver in the women's solo kata competition.